A few days ago Jessica over at
Mia Ma Mia Diaries
nominated me for the Sunshine Award. I've had to mull over a few blogs to weed out some of the few I've really been inspired by. So many awesome blogs out there it was really hard to choose, but I had to try.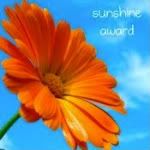 Here are the rules for the Sunshine Award:
Nominate 12 other bloggers (This was pretty hard!)
List the award in either a post or on your sidebar
Link your nominees within your post
Let the nominees know you have passed this on to them by commenting on their blog
Now the Hard Part...If I could only list everyone!
I Nominate...
1. Andrea over at
Good Girl Gone Redneck
2.
A mom writing
.
3. Lisa over at
5 orange potatoes
4. Carrie over at
The Magic Onions
5. Ida Mae over at
Trees Will Bend
6. Liz over at
A bell, a bean & a Chicago dog
7.
Childhood Magic
8. Nicole over at
Redbeet Mama
9. Lou at
Seaside Siblings
10. Linda at
Simply Living Modestly
11. Colleen at
Penny Wise People
12. Amy at
New Nostalgia
Whew! You ladies inspire me! Thank you for your creativity! Thank you Jessica for nominating me! :)